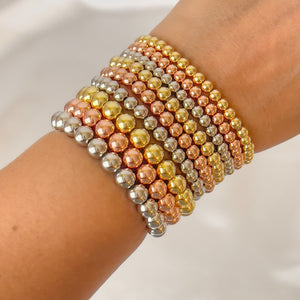 sold separately in a Set of 3, colors including Gold, Rose Gold, and Silver.
♥ 1- Set of 3 (5mm)
♥ 2- Set of 3 (6mm)
♥ 3- Set of 3 (8mm)
Material: Brass-18K Gold Plated & Zircon Details.
♥CARE: Try to prevent your jewelry from coming into contact with perfumes, and skin and hair products. Please store your jewelry separately in a dry and airtight place.
The Merchandise ships in 48 hours and takes 4-6 business days to deliver (with domestic shipping).